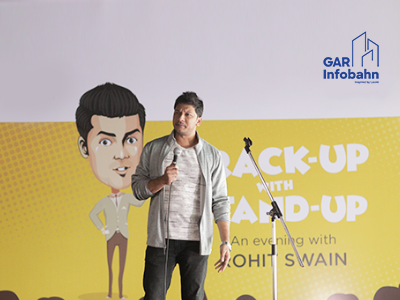 When GAR Infobahn logged into LOL Stand-up comedy at Picnic, Tower 1
At GAR, we believe, all work and no play make for dull days. Come Friday evenings, we
celebrate the end of the workweek with stand-up nights and 'fun'tabulous events. On
Friday, the 23rd of August, the inimitably hilarious Rohit Swain brought the house down
with raucous laughter. Having performed over 500 shows for leading corporates across
India, Rohit's stage performances are a mix of stand-up, impersonations, sketches, and
rib-tickling guitar songs which keeps his style of comedy delightfully amusing. A Tedx
speaker who has been featured on NDTV's The Rising Stars of Comedy, his hilarious-ashell act drew huge crowds and all the top honchos at GAR were in the house. The event
was hugely appreciated.